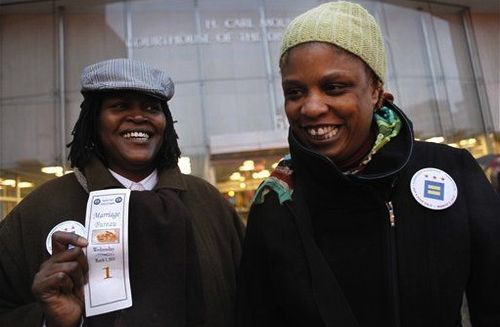 HRC is furnishing live video of some of the first three same-sex weddings to take place in Washington D.C. this morning, beginning at 9:45 am. Watch below.
They write: "Three couples – among the first same-sex couples to apply for marriage licenses in the DC — will legally wed under the new law at an event sponsored by the Campaign for All D.C. Families and D.C. Clergy United for Marriage Equality. The first wedding ceremony is scheduled to begin around 10:00 A.M., immediately followed by 2 additional ceremonies."
The couples are Angelisa Young and Sinjoyla Townsend (above), Reginald (Reggie) Stanley and Rocky Galloway, Rev. Elder Darlene Garner and Rev. Lorilyn Candy Holmes.
I'll push this UStream back to the top of the blog once it goes live.