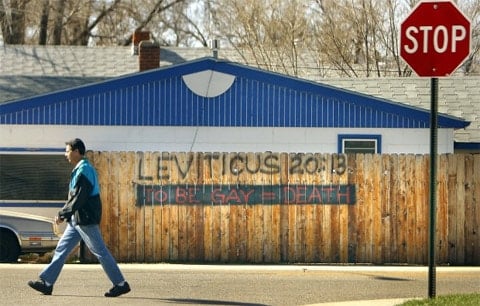 The city can't force Casper, Wyoming homeowner Chris Trumbull to remove a sign painted on his fence that reads "LEVITICUS 20:13 – TO BE GAY = DEATH" despite the fact that 100 students walk by it each day on their way to and from school, the Tribune reports:
"Emily Tews, a 17-year-old student at Roosevelt, said she has gay friends and was disappointed in the sign — especially its prominence on K Street — but related it to a lesson in her history class.
'It's a form of protesting — visual protesting,' she said. 'There's nothing you can do about it.'
Marty Wood, safe schools coordinator for the Natrona County School District, said the sign is a cause for concern, but he doubted the district could act against the owner.
City Code Enforcement Supervisor Shelley LeClere said Trumbull owns the fence and painted the sign. Trumbull was asked to remove his message, but he declined. Beyond asking, LeClere said, there was nothing the city could do. Trumbull's message, whether appropriate or not, is protected speech."
Says Trumbull: "I'm not doing it to be spiteful. Gay people are bashing themselves. My fence seems like the proper setting [to express an opinion]."
You may recall that Casper is the town where, for years, Fred Phelps of the Westboro Baptist Church has been lobbying to erect a "Matthew Shepard in Hell" monument.