The volcano, in the case of this Washington Post profile on HRC President Joe Solmonese, is not the Eyjafjallajökull glacier currently isolating him in London, but the angry bloggers and activists who pressure "Gay Inc" to get the job done.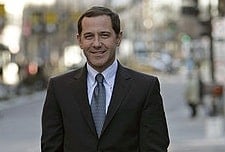 "But when the [hospital rights] directive was issued, Solmonese, currently stuck in London because of volcanic ash, says he couldn't fully give himself over to joy, because he knew it would be followed by strong critical reaction.
He's not talking about conservative groups such as Focus on the Family. Solmonese is not talking about the haters. He's talking about the furious: Gay activists and bloggers who think well-heeled nonprofits like HRC are too appeasing, too accepting of incremental change, too insidery. They have coined a term for their derision: 'Gay Inc.'"
Because we're all supposed to be satisfied with a bone while everyone else in the country gets a full meal, apparently.