Via Back2Stonewall comes this nugget from the Boston Globe.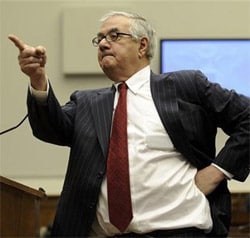 Rep. Barney Frank was harassed by two conservative ophthalmologists angry about health care reform on his flight from L.A. to Boston. Passengers thought the plane might have to land after a battle erupted between the doctors and Frank's partner, Jim Ready:
The problem started soon after the ophthalmologists – two sisters on their way to a conference in Boston – boarded the Virgin flight. When they discovered that Frank was sitting nearby, the women loudly dissed the landmark health care bill as an "Obamanation." (Frank was returning from LA, where he'd received an award from the Greenlining Institute, an economic development group for minorities, and appeared on Jay Leno's show.)

"They wanted to talk to me, but I apologized and said I like to read and watch on planes," Frank told us today. "They began to talk louder and that's when Jimmy (Ready) said, 'If you're trying to be bitchy, you're doing a good job."
A UK-based HR director said she mediated:
"The women had been drinking, and they were crying and shouting," Sexton said. "They were clearly the antagonizers, and Mr. Frank was kind of minding his own business." (She said Ready also upset another passenger, calling him "Santa Claus.") Finally, the parties calmed down and remained quiet for the rest of the flight. (Sexton was offered some complementary wine for her trouble.)