In a piece about the "five creepiest moments" at the recent Southern Republican Leadership Conference, Alexander Zaitchik writes up a moment that never made it into the official transcript.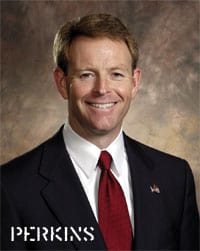 Family Research Council President Tony Perkins was there telling jokes about his favorite topic: gay sex.
"…it was no surprise that FRC president Tony Perkins carried the anti-gay banner in New Orleans, where male speaker after male speaker went out of their way to stress how long they've been married to their wives, and talk up how many children they have, each of them the product of heterosexual sex with those very same wives.After explaining that he had just had a fifth (and no doubt extremely heterosexual) child, conceived in an act of heterosexual sex, Perkins told a military-themed gay joke that had the conference in stitches (but which did not make its way into the official transcript of Perkins' speech as sent out by the FRC flack). Perkins had recently been speaking by phone with one of his old Marine buddies, who, along with totally not being gay, is about to retire after decades of service to his country. When Perkins asked his friend why he was hanging up the uniform, the friend replied, 'When I joined, homosexuality was illegal. When I reenlisted, it was optional. I want to get out now — before it's mandatory!'
The SRLC erupted at the punch line. It's unknown how many of the participants lingered on the fact that they, who claim to be at the least 'risk' of gay behavior, are the ones most terrified of being around gays. As Perkins proved, they also tend to be the ones most likely to tell jokes about Marines forced to bend over for their stern, patriotic, and lean yet muscled superiors."