Catholic Cardinal about the Pope on Easter: "With this spirit today we rally close around you, successor to (St.)
Peter, bishop of Rome, the unfailing rock of the holy church."

Jake Gyllenhaal starts to promote The Prince of Persia.

Janet Jackson on her brother Michael: "People think we were in denial but we weren't. We tried intervention
several times. He was very much in denial — he didn't think he had a
problem."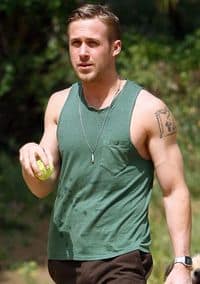 The Easter Granny could easily scare off just as many children as Santa Claus.

A lawsuit by a gay engineer who worked for the Trinity Broadcasting Network and was by the Christian network's head to not "dress so gay, to wear jewelry, to act more straight and to pay attention to girls" has settled his lawsuit.

We'll learn sometime this month if Supreme Court Justice John Paul Stevens will retire.

Believe it or not, there's a law on the California books that requires health officials to cure homosexuality. And what's more suprising is that it stemmed from a crime that was not related in anyway to gays.

Ryan Gosling goes hiking with his best friend.