A former Gucci salesman has filed suit against the company claiming he was touched inappropriately and fired after balking at a supervisor's suggestion that he was gay, the NY Daily News reports: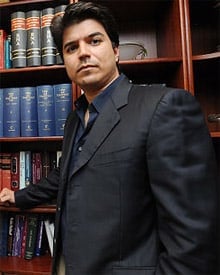 "Adolfo Mendez, who says he was a top seller for the luxury goods giant, has filed a $5 million suit claiming he was discriminated against because he's straight.
The married man says the trouble started when Michael Daly took over as manager and started getting up close and personal.
Daly crept up behind Mendez and gave him an unwelcome massage, from his shoulders to his rear end, according to papers filed Thursday in Manhattan Federal Court.
The first time, Mendez says, he just froze. A few weeks later, Daly tried again – and Mendez says he asked him to stop.
'I said, 'Look, I really don't appreciate this. You touched me. I don't think it's professional,' Mendez told The News.
'He gave me this look. It wasn't like, 'Oh, I'm so sorry, I didn't mean it.' It was like, 'You bastard, how dare you?''
About the same time Daly came to the Manhattan store, a new manager, David Gray, took over the women's clothing department and became Mendez's direct boss.
'I know you're gay,' Gray allegedly told Mendez, who says the manager's favorite subject of conversation was sex.
When Mendez made it clear he didn't enjoy the shenanigans, he started getting reprimands.
He said he complained to human resources last year and was placed on paid administrative leave and then fired less than two weeks later."
Gucci salesman says he was discriminated against by gay manager [nydn]