A "gay sex" link is being investigated in the murder of South African white supremacist Eugene Terre'blanche, who was buried on Friday. Two farm workers have been charged with the murder.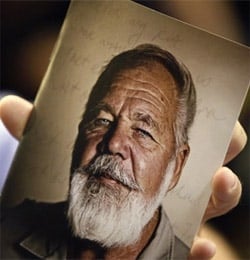 Now the lawyer for one of the defendants says there was sodomy involved, according to Reuters:
"Terre'blanche was hacked and battered to death on April 3 and found with his trousers pulled down after a murder that has showed up the racial strains in the 'Rainbow Nation.''My instructions from my client are that there was some sodomy going on and it sparked the murder of Mr Terre'blanche,' Puna Moroko, attorney for 28-year-old Chris Mahlangu, told the Sunday Times newspaper. The other accused is 15.Terre'blanche's Afrikaner Resistance Movement (AWB) has rejected any suggestion of a homosexual link to the murder of its leader, who was one of the most vocal proponents of keeping South Africa's races apart."
AP: "Terre'blanche was a prominent figure during the dying years of white minority rule with his khaki-clad paramilitary followers wearing armbands with the party symbol that resembles the Nazi swastika.But he had since lived in relative obscurity, particularly since his release in 2004 after serving a prison sentence for beating a black man nearly to death.Thousands of followers of Terre'blanche in angry mood brandished apartheid-era flags and sang the old South African anthem at his funeral on Friday in his home town of Ventersdorp, 60 miles west of Johannesburg."
A report on the Terre'blanche funeral and the tensions it is causing in South Africa,
AFTER THE JUMP…