'Designing Woman' Dixie Carter has died at 70: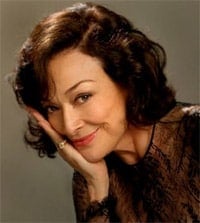 "Carter died Saturday morning, according to publicist Steve Rohr, who represents Carter and her husband, actor Hal Holbrook. He declined to disclose the cause of death or where she died. Carter lived with Holbrook in the Los Angeles area.
'This has been a terrible blow to our family,' Holbrook said in a written statement. 'We would appreciate everyone understanding that this is a private family tragedy.'
A native of Tennessee, Carter was most famous for playing wisecracking Southerner Julia Sugarbaker for seven years on 'Designing Women,' the CBS sitcom that ran from 1986 to 1993. The series was the peak of a career in which she often played wealthy and self-important but independent Southern women.
She was nominated for an Emmy in 2007 for her seven-episode guest stint on the ABC hit 'Desperate Housewives.'
Carter's other credits include roles on the series 'Family Law' and 'Diff'rent Strokes.'"
RIP.