Mark Woodland, a 54-year-old Phoenix man was stabbed to death on Sunday by a 19-year-old man he met using a social network, police say. The victim's roommate discovered their apartment ransacked and called police.
ABC15 reports: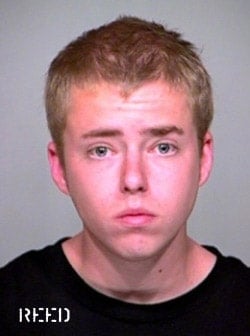 "When officers went inside to check they found a downstairs bathroom door closed and the lights on inside, according to Holmes. They did not get an answer to a knock on the door.Holmes said when officers looked under the door they could see a body on the floor and when they forced the door open found the victim badly beaten. He also appeared to have been stabbed repeatedly, Holmes said. Phoenix firefighters were called to the home and the victim, 54-year-old Mark Woodland, was pronounced dead.Woodland's roommate reported he had received a text message from the victim around 5 p.m. saying he was going to pick up a male date, whom he met on a social networking application, and bring him home. Woodland apparently asked his roommate to not be at home. The victim reportedly sent a second text at around 6 p.m. to ensure that his roommate had left the apartment. The roommate left and returned around 11 p.m. to find the home ransacked."
A friend of Woodland's provided police with his username, through which police were able to track down the man he met:
"On Tuesday, detectives were able to locate the suspect in the area of 32nd Street and Broadway Road and when detectives contacted three males at the house, one of them apparently fit the suspect description. Tommy Reed, whose telephone was determined to be the same phone used to arrange the date with the victim, was transported to police headquarters for an interview. Holmes said Reed, 19, gave details about the night of the murder that implicated him in the crime.Reed was later booked into the Fourth Avenue Jail on one count of 2nd Degree Murder.Holmes said robbery may have been a motive for the murder."
UPDATE: The Phoenix Police Department released this statement:
From the Phoenix Police Dept Press Office:

Hello all. Our detectives have learned through this continuing investigation that it was not the "Grinder" IPHONE application that was used by the victim to make contact with the suspect, it was in fact a different social network. Because this investigation is continuing, I do not have the information regarding the actual site that was used. I would ask that, as you continue to report this grizzly crime to your viewers readers and listeners, you use "unknown social network" in regards to how the victim and suspect were connected.
Watch KTVK's report on the murder, AFTER THE JUMP…