Here's a report from NBC: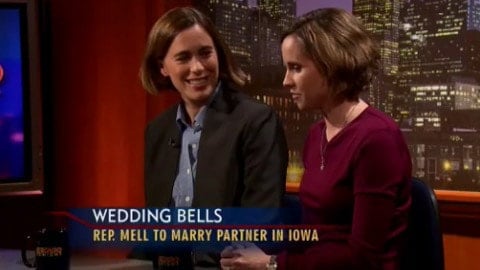 On Chicago's WTTW last night, Illinois State Rep. Deborah Mell (D-Chicago) announced her engagement to her longtime partner Christin Baker. She also said she planned to make a big deal out of it on the House floor today and will ask for a "point of personal privilege" from Speaker Michael Madigan to discuss it, raising the issue of marriage equality with other lawmakers.
Same-sex marriage is prohibited in Illinois. Mell and Baker plan to travel to Iowa to marry.
NBC reports: "The couple said they intend to travel to Iowa in the fall of 2011 to marry. Iowa is one of five states, along with the District of Columbia, that allows same sex marriages. Illinois lawmakers made the practice illegal in 1996. Mell represents Illinois' 40th District and is the daughter of Chicago Ald. Dick Mell, sister to Patti Blagojevich and sister-in-law to the impeached and indicted former Governor Rod Blagojevich. Tueday marks the first anniversary of an Iowa Supreme Court decision allowing for same-sex marriages."
Watch Mell and Baker make the announcement to WTTW's Carol Marin, AFTER THE JUMP…