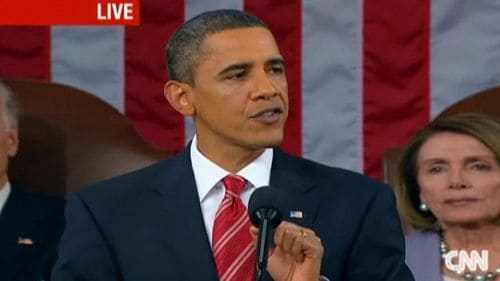 Statements that President Obama made at a gay rights reception at the White House in June 2009 and at the State of the Union Address, that 'Don't Ask, Don't Tell' "weakens our national security," put him at odds with his own Justice Dept. this week as the DOJ was compelled to deny, on the record (PDF), their accuracy in a case against the military gay ban brought by the Log Cabin Republicans.
The SF Chronicle reports: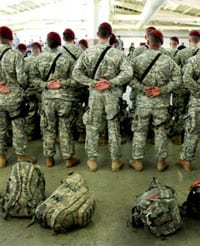 Monday's filing in U.S. District Court in Riverside was the latest twist in the current round of litigation over anti-gay measures that Obama politically opposes but is defending in court.

The suit by the Log Cabin Republicans, a gay and lesbian group, is scheduled to go to trial in June. The group argues that the 1993 law prohibiting military service by homosexuals who reveal their sexual orientation was an irrational measure that served no legitimate military or government purpose.

Government lawyers preparing for trial are often asked by their opponents to confirm or deny officials' statements that might help the plaintiffs' case. When confronted with Obama's June 2009 speech at a White House reception, Justice Department lawyers objected that the question was both misleading and irrelevant.

The president was discussing only the advisability of the policy, not its legal status, and his comments should not be used to suggest that the law is "somehow legally invalid or unconstitutional," government lawyers said in a brief last month. Words and phrases like "national security" and "weakens" are vague and subjective, they argued, and add nothing to the legal debate.

A federal magistrate was unswayed and ordered the Justice Department to tell the plaintiffs whether it supported or rejected Obama's statement.

Still protesting that the question was too complex for a one-word answer, department lawyers replied this week that – duty-bound to defend all federal laws – they had "no choice but to deny, for purposes of this litigation," the accuracy of the president's words.
Here is some additional analysis from Timothy Kincaid at Box Turtle Bulletin. 
Writes Kincaid: "[The DOJ tries] to quibble that the Executive and Legislative Branches are in disagreement. They state that they are compelled to defend the law even if the Executive wishes it repealed.
And that may be correct. But they are not compelled to take specific factual conclusions that are contradictory to those espoused by the Executive Branch and yet that is exactly what they are doing."