The AP is calling a recently-authenticated 1985 letter "the strongest challenge yet to the Vatican's insistence that Benedict played no role in blocking the removal of pedophile priests during his years as head of the Catholic Church's doctrinal watchdog office."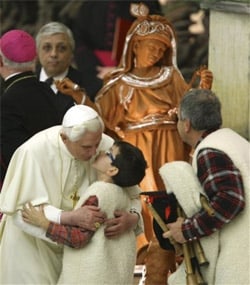 The letter deals with the proposed defrocking of Rev. Stephen Kiesle, calls for which began in 1981:
"Kiesle had been sentenced in 1978 to three years' probation after pleading no contest to misdemeanor charges of lewd conduct for tying up and molesting two young boys in a San Francisco Bay area church rectory.
As his probation ended in 1981, Kiesle asked to leave the priesthood and the diocese submitted papers to Rome to defrock him.
In his earliest letter to Ratzinger, Cummins warned that returning Kiesle to ministry would cause more of a scandal than stripping him of his priestly powers."
The then Cardinal's long-delayed response:
"In the November 1985 letter, Ratzinger says the arguments for removing Kiesle are of 'grave significance' but added that such actions required very careful review and more time. He also urged the bishop to provide Kiesle with 'as much paternal care as possible' while awaiting the decision, according to a translation for AP by Professor Thomas Habinek, chairman of the University of Southern California Classics Department.
But the future pope also noted that any decision to defrock Kiesle must take into account the 'good of the universal church' and the 'detriment that granting the dispensation can provoke within the community of Christ's faithful, particularly considering the young age.' Kiesle was 38 at the time."
Text of letter here.