Virginia Governor McDonnell ripped for celebrating Confederate History Month.

Martina Navratilova diagnosed with breast cancer. Expected to make full recovery: "I cried. It knocked me on my ass, really. I feel so in control of my life and my body, and then this comes, and it's completely out of my hands."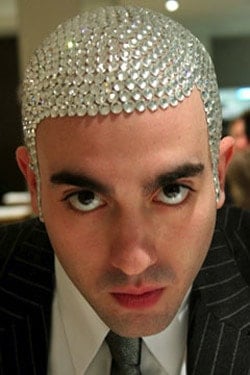 Would you "baldazzle" yourself? "Levine's latest work is a Swarovski crystal headpiece which he calls his best design yet — and may give Jennifer Love Hewitt's vajazzle a run for its money.
It includes 1,000 crystals that are painstakingly placed one by one onto his scalp."

He dreamed a dream: the male, Taiwanese answer to Susan Boyle.

 Newly-discovered asteroid to pass close to Earth on Thursday.

Janice Dickinson to OUT magazine: "The gays need more money. My gays need more money for AIDS and AIDS research. Elton John, pediatric AIDS — we need to find a cure for AIDS. I'm obsessed. Here's the deal: I love my daughter, she's out there, Mother's Day is coming, Mother's Day to all you queers, but we need to find more money for AIDS. That is why I decided to do music — to raise money for AIDS, more research, and the cure for fucking AIDS. Thank you."

Differing accounts of anti-gay hate crime complicate case of Brooklyn man who faces deportation.

St. Vincent's hospital in Manhattan to close. One of first hospitals with dedicated services for HIV/AIDS patients.

Final ruling in Malawi gay couple's case coming May 18: "The court is now awaiting written submissions from both prosecutors and defence lawyers for the two accused after the couple chose to remain silent.
Khumbo Magwira a court official said the magistrate has warned the two parties that although he values the submissions, he will still make his ruling even in the absence of them."

MTV casting for a new bunch of Jersey Shore Guidos.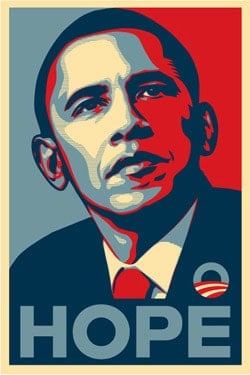 Court rules against Shepard Fairey in AP "Hope" case: "U.S. District Judge Alvin K. Hellerstein ruled in favor of The Associated Press in most of its requests for evidence, including when Fairey's lawyers first knew the AP had asserted that it holds the copyright to a photograph the image was based on.
He said lawyers must disclose relevant documents that were deleted or destroyed from Fairey's files and when the deletions or destruction occurred.

Adam Lambert to mentor American Idol contestants next week. Twitter: "Even though I'm just at the start of my recording career, I hope to lend some insight as one who's been thru the Idol adventure. Excited!!"

UK conservative party leader David Cameron urged to explain party's stance on gay rights.

John Amaechi slams Cameron: "As a black, gay man (amongst many other things) I was horrified that the only remotely brown face of Conservative power – and one ostensibly in charge of our societies 'social action' couldn't even spit out words in support of equality.
"I can only conclude, that should Cameron and his remarkably un-evolved group take power that LGBT people will be a big part of his 'great ignored'."

Those Hamms: Mad Men cast and crew perform Bye Bye Birdie.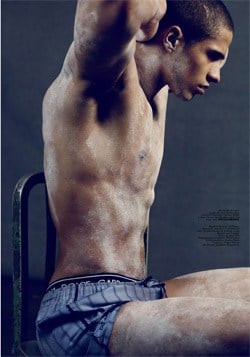 Hercules presents luscious slabs of Dolce & Gabbana (site nsfw).

Winona Ryder's comeback begins again.

Constance McMillen does come from the meanest town in Mississippi. Classmate: "IAHS is one of the top schools in the state and I'm proud of that, and I'm proud that we took a stand and just said you know what? forget it, we have just as much right as you do to have a party for ourselves. So we did, and now we're getting flack because poor Connie's ego got a bit of bruising. She's playing the lesbian card to prove she ALWAYS gets what she wants. This time, we didn't just let her."

Jane Fonda not proud of her plastic surgery.

FCC loses big in net neutrality case: "The ruling basically tells the FCC that it has no authority to regulate the activities of internet service providers, just as the agency prepares to launch a nationwide broadband agenda."

More on Fire Island Pines and its new owners.

Santa Rosa, California approves gay and lesbian retirement community: "Initially, there were accusations some of the opposition was fueled by homophobic opposition to a retirement community geared to gays and lesbians, accusations that eventually dissipated."