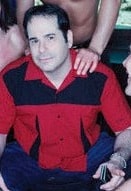 From Joe.My.God:
"Famed NYC club promoter and one-time magazine kingpin Marc Berkley died unexpectedly in his sleep last night on Fire Island. Berkley reportedly had a heart attack. He was 56. Berkley was the co-founder of HX Media, the now-defunct gay publishing company that owned the popular nightlife guide HX Magazine and the LGBT news title The New York Blade."
Fans and friends are remembering Berkley on his Facebook page.
Apologies for the incorrect photo earlier. Our thoughts go out to Berkley's family and friends.