A bill proposed by state senator Steve Russell which passed Oklahoma's Senate 39-6 and was meant to exempt the state from having to abide by the recently passed Matthew Shepard Hate Crimes Act on the basis of the 10th Amendment to the U.S. Constitution, failed to make it out of a House committee, Tulsa World reports: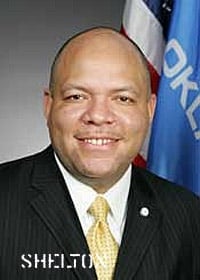 "Rep. Mike Shelton, D-Oklahoma City, became the House author of Senate Bill 1965, by Sen. Steven Russell, R-Oklahoma City. Shelton said he took control of the bill to kill it and asked that the bill not get heard in the House Judiciary Committee.
Russell said he had substantially rewritten the bill from its original version.
Under the new language, if local law enforcement objected to turning information over to the federal government in a hate-crimes investigation, federal authorities would have to file a petition in court showing good cause why they needed the information, Russell said…Shelton said SB 1965 would have prohibited Oklahoma law enforcement agencies from cooperating with any federal agency in the investigation of a federal hate crime.
But Russell said his bill had been misinterpreted. He said he was concerned that pastors who preached against homosexuality could be prosecuted if someone, as a result, took action against a gay person.
'In my view, this is
not the end of it,' Russell said. 'We need protections in state law.'
Speech needs to be protected unless it is directly related to a crime, he said."