It's unfortunate that so often politicians advocate for these things on their way out of office.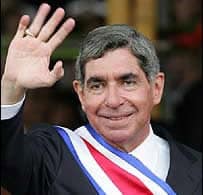 Open Costa Rica writes: "Unfortunately for the gay rights advocates Oscar Arias waited until the last weeks of his administration to come out so strongly on this point. So in his final days as a lame duck don Oscar is asking sovereign nations to disband their military, and his own officially Catholic state to adopt legal measures in favor of homosexual unions.
Apart from advocating legal recognition in matters of pensions and personal estates he had this to say.  'One does not choose sexual orientation. This is given by the nature or God. One does not choose, neither men nor women.' …While Arias attempted to gain some traction by presetting homosexual rights an issue for both sexes it's unlikely that the first female elected president of Costa Rica is going to wave a rainbow banner."
In fact, the incoming President Laura Chinchilla has said that although she believes in civil rights for gays, marriage is not one of them. She wants to protect the institution from gays.
Chinchilla takes office on May 8.