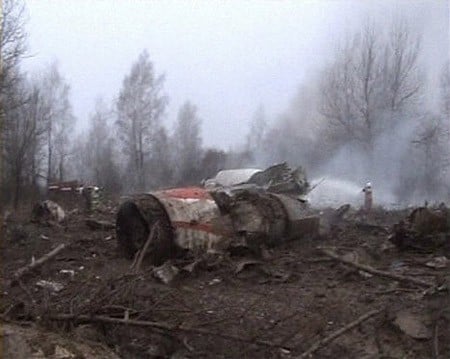 A plane carrying Polish President Lech Kaczynski, the first lady, and dozens of top government and military officials crashed in a bleak forest outside Smolensk, Russia in heavy fog as it attempted a landing. All aboard perished. The contingent from Poland was traveling to Russia to commemorate the 70th anniversary of the massacre by the Soviet secret police of thousands of Polish officers in World War II.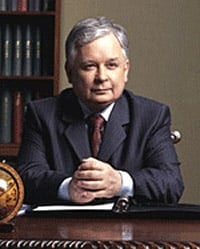 There were conflicting reports of the number of people aboard, from 96 up to 132.
The AP reports: "The crash devastated the upper echelons of Poland's political and military establishments. On board were the army chief of staff, national bank president, deputy foreign minister, army chaplain, head of the National Security Office, deputy parliament speaker, civil rights commissioner and at least two presidential aides and three lawmakers, the Polish foreign ministry said.It was not expected to directly affect the functioning of Polish government, however: Poland's president is commander in chief of its armed forces but the position's domestic duties are chiefly symbolic. The prime minister and other top government ministers were not aboard the plane."
The plane was a 26-year-old Tupolev jet. It did not reach the runway:
"The crash site was cordoned off, but Russian media reported that the airplane's crew made several attempts to land before a wing hit the treetops and the plane crashed about half a mile from the runway. Correspondents reporting from the scene said the plane's explosion was so powerful that fragments of it were scattered as far as the outskirts of Smolensk, more than a mile from the crash site itself."
I have written much about Kaczynski over the past few years, as well as his twin brother Jaroslaw, the former Prime Minister who is suspected to be gay. President Kaczynski was virulently anti-gay. 
In 2008, he broadcast, without permission, a wedding video of American couple Brendan Fay and Tom Moulton on Poland's national television to illustrate a presidential address he was giving warning the nation that supporting the Lisbon Treaty, which is linked to the EU Charter of Human Rights, would mean that same-sex marriage could come to Poland.
In 2007, on a state visit to Ireland, Kaczynski came under fire for remarks he made that gays would destroy the human race. Said the President on his decision to ban a Gay Pride parade: "If that kind of approach to sexual life were to be promoted on a grand scale, the human race would disappear. Imagine what grand changes would occur in mores if the traditional links between men and women were set aside."
It was a sentiment he had expressed before, as the Mayor of Warsaw.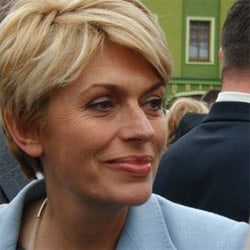 Also aboard the plane was Izabela Jaruga-Nowacka, who served as Poland's deputy prime minister between 2004 and 2005 and was an outspoken critic of Lech Kaczynski's homophobic policies when he was Warsaw mayor.
"Kaczynski as mayor of Warsaw repeatedly banned gay pride marches from taking place within the capital. Jaruga-Nowacka spoke out at a banned event in 2005: 'We are for democracy,' she told the crowd. 'We are for protection of all human rights, not only for some groups who are in the majority in Poland. All citizens have the right to choose their own way of life.'Adding: 'I am here to express my protest against the Mayor's decision which is a violation of the Polish constitution and of civic rights. I am here to show my respect for the Polish tradition of tolerance.'She regularly spoke at other gay rights rallies where she suffered verbal abuse from extremist nationalists and Christian groups."
Russian Prime Minister Vladimir Putin said he would personally head the investigation into the plane crash.
Watch a report on the plane crash from Russia Today, AFTER THE JUMP…