The recently-confirmed Rev. Mary Glasspool of Los Angeles, and Bishop Gene Robinson of New Hampshire are the Episcopal Church's only two openly gay bishops, but they could soon be joined by a third, the Salt Lake Tribune reports: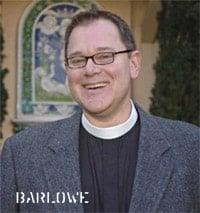 "The Rev. Michael L. Barlowe — who married his partner, the Rev. Paul Burrows, in San Francisco in 2008, just before the fractious Proposition 8 vote banning gay marriage — is one of four finalists to replace retiring Bishop Carolyn Tanner Irish.
Reflecting the Utah diocese's diversity, the other three candidates are: the Rev. Juan A. Quevedo-Bosch, a Cuban-born rector in New York; the Rev. Mary C. Sulerud, who helps train new priests in Washington, D.C.; and the Rev. Scott B. Hayashi, who once pastored a church in Ogden but now ministers in Chicago…Each of the candidates is 'immediately engaging,' [Ric Tanner, president of the Utah church's Standing Committee] said…The selection of a gay bishop, however, would be the most controversial."
According to the paper, Utah's Episcopal church is on record supporting the ordination of gay and lesbian priests in committed relationships. The next step for Barlowe is what's known as a "walkabout" wherein the candidates travel the state visiting with parishes and members. Delegates from the Church then come together to elect a Bishop on May 22.