Playwright Terrence McNally married his partner Tom Kirdahy today in Washington D.C., the AP reports: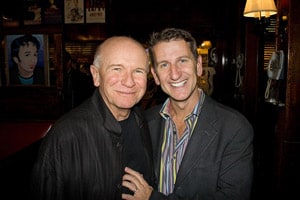 "On Tuesday, the 71-year-old playwright and his partner, Tom Kirdahy, 46, exchanged vows on the banks of the Potomac River with the new same-sex marriage law in the U.S. capital. Never mind their 25-year age difference, he said. They don't feel it, except for their tastes in music.
During a small ceremony under a tree blooming with white flowers, Kirdahy read from a scene in McNally's play 'Corpus Christi,' in which a gay Christ-like figure named Joshua marries two apostles.
'It is good when two men love as James and Bartholomew do and we recognize their union,' Kirdahy read. 'Love each other in sickness and in health.'
Kirdahy, a lawyer and Broadway producer, choked up as he recalled seeing the play before meeting McNally.
'The first time I saw it, I knew that I could love the writer of those words,' he said. Once they met, McNally said, it was love at first sight.
Since then, they have battled McNally's lung cancer and worked together, as well as apart. After nearly 10 years and a clean bill of health, it feels like a lifetime, McNally said."
Ironically, Corpus Christi is tearing other parts of the country apart rather than bringing them together.
Actress Tyne Daly served as a witness. Congrats to the happy couple.
Image by Fausto Fernós of Feast of Fools. Nice wedding image here.