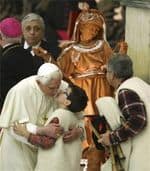 Aside from recently calling for repentance, the Pope has been publicly silent about the Catholic clergy sexual abuse epidemic. Today, however, he said something would be done:
"Pope Benedict XVI has promised 'church action' to confront the clerical abuse scandal.
Benedict told his weekly public audience Wednesday in St. Peter's Square that he had told victims of abuse during his recent trip to Malta that he 'shared their suffering … assuring them of church action.'"
Considering "action" in the past has meant excuses and cover-ups, we'll see.