Much of the talk at Michelangelo Signorile's LGBT Leadership Town Hall this afternoon focused around getting six senators to move for repeal this year on "Don't Ask, Don't Tell", and support the addition of the repeal to the Department of Defense Authorization bill that is coming up at the beginning of May.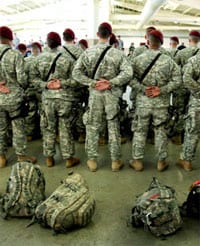 Those senators are:
Sen. Evan Bayh (D-IN) (202) 224-5623
Sen. Scott Brown (R-MA) (202) 224-4543
Sen. Robert Byrd (D-WV) (202) 224-3954
Sen. Ben Nelson (D-NE) (202) 224-6551
Sen. Bill Nelson (D-FL) (202) 224-5274
Sen. Jim Webb (D-VA) (202) 224-4024
DC Agenda's Chris Johnson just posted an enlightening article on where those senators stand, and the DADT situation overall. Here's a bit of it:
Many are saying they want to hear the results of the Pentagon study on "Don't Ask, Don't Tell," which is due Dec. 1, before taking action. The mandate of the study, as established by Defense Secretary Robert Gates and Chairman of the Joint Chiefs of Staff Adm. Mike Mullen, is to examine how the U.S. armed services would implement open service should Congress repeal the ban.

One such senator waiting for the study results is Jim Webb (D-Va.). Asked by DC Agenda on Tuesday whether he favors repeal, Webb emphasized his support for the review currently underway. "I think what Secretary Gates and Adm. Mullen proposed in terms of the study is very important," Webb said. "We need to understand that. I support the approach that they're taking. It's responsible." Pressed on how he would vote on an amendment during the defense authorization markup, Webb reiterated his support for the working group and replied, "I think we need to honor the process that Secretary Gates and Adm. Mullen have put in motion."

Holding a similar position is Sen. Bill Nelson (D-Fla.). In a statement, Nelson spokesperson Grant Schnell said the senator is interested in the results of the study. "Sen. Nelson's inclined to support repeal of the "Don't Ask, Don't Tell" policy, but wants to see the study Secretary Gates announced of how this would impact the military," Schnell said.

Also refraining from endorsing repeal was Sen. Evan Bayh (D-Ind.). In a statement, Bayh said he's "committed to ensuring that our troops are treated with the respect they have earned through their selfless service" and that his personal belief is "those who are willing to take a bullet for their country ought to be able to serve it openly." "However, President Obama is absolutely right to solicit the input and support of his top military commanders about the effects of repealing the 'Don't Ask, Don't Tell' policy," Bayh said. "I will make a final decision after receiving the input of our top commanders."

The offices of Sens. Robert Byrd (D-W.V.), Scott Brown (R-Mass.) and Ben Nelson (D-Neb.) didn't respond to DC Agenda's request for comment.
More troubling is a willingness from Senator Carl Levin to toe the White house line: "Among those noticing a lack of support from the Obama administration to repeal 'Don't Ask, Don't Tell' at this time is Senate Armed Services Committee Chairman Carl Levin (D-Mich.). Asked by DC Agenda on Tuesday what the White House and the Pentagon are saying they want from lawmakers on 'Don't Ask, Don't Tell,' Levin replied, 'Let them complete the analysis.'"
This afternoon, at the Town Hall, Solmonese said he stood firm in his belief that DADT would be repealed this year, despite accusations from members of the panel and audience that he sold a bill of goods to the LGBT community when he knew the White House had no plans on delivering it.
Insisted Solmonese: "I still believe we're going to repeal DADT this year."
Aubrey Sarvis, executive director of the Servicemembers Legal Defense Network (SLDN), who was revealed to have been left out of high level meetings on DADT with the White House in which HRC was included, said he was committed to finding a way to get the repeal done while at the same time allowing the Pentagon to complete its study..
Said Sarvis: "I pledge to work with HRC to round up those six senators. It's unlikely that we will get a majority of those senators without the President speaking up. Let's find the path that brings the President to the table with the Pentagon."