Police at Cal State Long Beach are searching for a suspect who slashed a transgender student there, the Long Beach Press Telegram reports: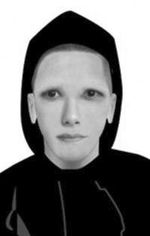 "The 27-year-old victim was taken to a local hospital by a university instructor, but his injuries were not life threatening, and he was released that evening, said CSULB Spokesman Rick Gloady.
The suspect is described as a 5-foot-10-inch, thin white male with light complexion and dark hair. He was wearing a dark hooded sweatshirt and dark khaki shorts, Gloady said.
The attack happened around 9:30 p.m. The victim was approached by a man inside a restroom on the west side of the KKJZ building. The suspect said a first name and asked the student if he was that person. The student said he was, Gloady said.
The suspect pulled the student's T-shirt over the student's head, pushed him into the stall and used a sharp object to slash the student's chest. The suspect then fled the area, Gloady said."
Inset: police sketch of suspect.