Lisa Reimer, a music teacher at Vancouver's Little Flower Academy, a high school for girls, told the school her sexual orientation in December when she requested parental leave because her partner had a baby.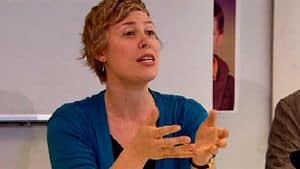 She was denied leave in January, and this month was told to start working from home.
"The principal told Reimer the administration had no concerns about her ability to teach but that many parents were worried about her potential influence on students, the Pride Network said.
Reimer does not expect to have her contract renewed, the group said.
In a news release late Wednesday, Little Flower Academy's chair, Celso Boscariol, said he "was quite surprised" by Reimer's statements…"Little Flower Academy is a publicly funded religious school," said Steve LeBel of the Pride Education Network in a statement released by the group on Wednesday morning.
'They are clearly discriminating against Ms. Reimer on the basis of her family status and sexual orientation. In 2010, it is absolutely unfathomable that any school would insinuate that students could be led into homosexuality by having a lesbian teacher, and then fire that teacher.'"