Well-known NYC community and LGBT rights activist Harry Wieder was struck by a taxi and killed Tuesday night following a community board meeting on the Lower East Side, the Lo-Down reports: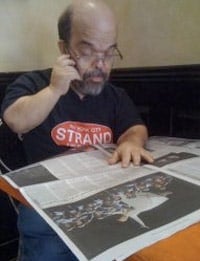 "Wieder had been trying to cross Essex Street when the accident happened. Emergency crews arrived on the scene almost immediately and transported Wieder to Bellevue Hospital, but attempts to resuscitate him failed.
Wieder was a longtime member of Community Board 3, as well as an activist for gay rights and the rights of the disabled. In an email message, CB3 Chair Dominic Pisciotta said, 'I will miss Harry terribly. He contributed so much to the Board and you could always count on him being at nearly every meeting. He loved serving the community and most of all fighting for it.' … On Wieder's Facebook Page, he described himself as a: 'Disabled, gay, Jewish, leftist, middle aged dwarf who ambulates with crutches…' He was a true Lower East Side personality who definitely made his mark."
Gothamist writes: "Wieder first came to prominence in the 1980s with the activist group Act-Up. He was profiled in Betty Adelsen's 2005 book, The Lives of Dwarfs: Their Journey from Public Curiosity Toward Social Liberation, and also written about by Jimmy Breslin for Newsday, who captured his 'combative, roguish nature and his penchant for truth.'
Despite having difficulty walking, and living in a home for the deaf, he was an active fixture at community board meetings, rallies and events, and became well known to local politicians."
Wieder was 57.