The Vatican is trying to deflect attention away from the thousands of sexual abuse cases that have come to light in recent months and Pope Benedict's complicity in them by painting themselves as victims of a hate campaign over the church's views on same-sex marriage and abortion, the AP reports: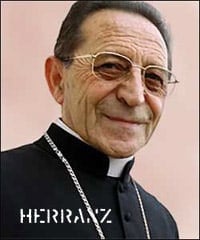 "Vatican Radio broadcast comments by two senior cardinals explaining 'the motive for these attacks' on the Pope and the Vatican newspaper chipped in with spirited comments from another top cardinal.
'The pope defends life and the family, based on marriage between a man and a woman, in a world in which powerful lobbies would like to impose a completely different' agenda, Spanish Cardinal Julian Herranz, head of the disciplinary commission for Holy See officials, said on the radio… Also arguing that Benedict's promotion of conservative family models had provoked the so-called attacks was the Vatican's dean of the College of Cardinals, Angelo Sodano.
'By now, it's a cultural contrast,' Sodano told the Vatican newspaper L'Osservatore Romano. 'The pope embodies moral truths that aren't accepted, and so, the shortcomings and errors of priests are used as weapons against the church.'"
Italian Cardinal Giovanni Lajolo, who runs the Vatican City State's governing apparatus, said the Pope has done all that he can, "decrying what he described as a campaign of 'hatred against the Catholic church.'"