The bill introduced by Assemblywoman Bonnie Lowenthal that was raised in Kyra Phillips' irresponsible and damaging CNN segment yesterday (Phillips yesterday promised more 'exploration' on the topic) passed an Assembly Committee yesterday, the SF Chronicle reports: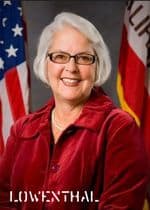 "It took awhile to get the bill out of the Public Safety Committee, however, as several legislators declined to cast a vote on the measure.
At issue is a 60-year-old section of the Welfare and Institutions code that directs the state Department of Mental Health to 'plan, conduct and cause to be conducted scientific research into the causes and cures of sexual deviation, including deviations conducive to sex crimes against children, and the causes and cures of homosexuality, and into methods of identifying potential sex offenders.' … The bill's passage seemed like a slam dunk, but several assemblymen abstained from the vote, including Danny Gilmore, R-Hanford (Kings County) and Anthony Portantino, D-La Canada Flintridge (Los Angeles County). Portantino expressed concern that the parts dealing with sex offenders would be stricken by the proposed law."
Previously…
CNN's Kyra Phillips: Is Homosexuality a Problem in Need of a Cure? [tr]
California Law Still Requires Health Officials to Seek Cure for 'The Gay' [tr]