Here's an intense shot of lightning inside the Eyjafjallajökull ash plume. The one below was shot by Italian scientist Marco Fulle.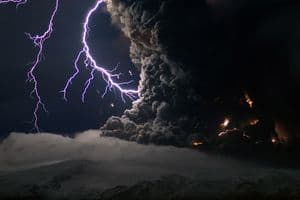 Vulcanologists are waiting for the other shoe to drop:
"…previous Eyjafjallajökull eruptions have triggered eruptions of neighbouring Katla, one of the largest volcanoes in Iceland. Katla erupted every 40 to 80 years in the thousand years before the last eruption in 1918…The larger volcano, beneath the larger Mýrdalsjökull glacier, has a reputation for triggering huge jökulhlaup – the Icelandic term for the sudden release of meltwater from glaciers and ice sheets. Its last eruption generated a peak discharge of 1.6 million cubic metres per second within 4 to 5 hours and moved so much debris that Iceland's coastline was extended by 4 kilometres.
A new Katla eruption would be unlikely to kill anyone, because the area is sparsely populated and eruptions are usually preceded by earthquakes that would give plenty of time to evacuate. It would cut the main road link in the south of the island, however…The three eruptions of Eyjafjallajökull in the last 1100 years – in 920, 1612 and 1821 – have all triggered larger Katla eruptions."
Air traffic authorities are debating reopening regions of airspace as the crisis continues.
Some see a nightmarish face face in the radar image of the three craters that form Eyjafjallajökull. No doubt Rush Limbaugh sees the face of Nancy Pelosi.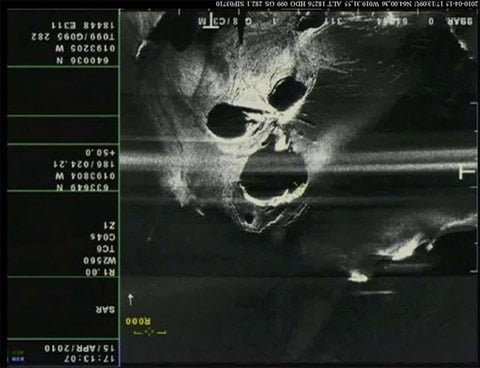 Finnish fighter jets which flew through the ash cloud were said to have sustained damage:
"Images taken inside one Hornet engine with a fibroscope camera indicated that the heat of the engine — around 1,000 degrees Celcius — had melted the ash inside the engine, blocking ventilation channels.
'Blockages of ventilation channels caused by melting ash lead engine components to overheat and material to weaken,' it said, adding this could fracture rotating engine parts.
In the worst case, the weakening of component materials could cause 'parts to detach and the engine to be destroyed,' it said."
Here's a flickr page with some recent shots.