Overheard remarks come at the end.
(clip via daily dish)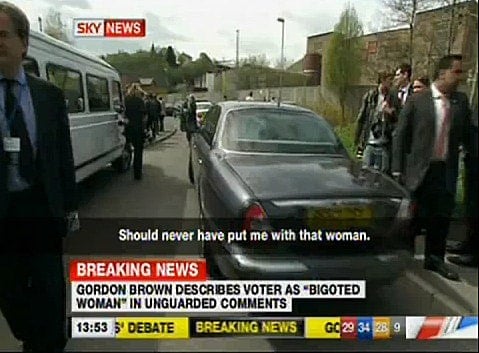 British Prime Minister Gordon Brown made a major gaffe today after a press-op in northern England in which he spoke with a woman about taxes, the economy, and immigration. Following the exchange, Brown got in his car, and, while the mic was still on, was overheard, saying: 
"Should never have put me with that woman. Whose idea was that? It's just ridiculous. She's just a sort of bigoted woman that said she used to be Labour. I mean, it's just ridiculous."
Brown said he was mortified about the slur (being overheard) and returned to the woman's house later: 
"Mr Brown later spent more than half an hour at Mrs Duffy's house, apologising to her before telling waiting reporters he had misunderstood what she had said.He said: 'If you like, I'm a penitent sinner. Sometimes you say things you don't mean to say, sometimes you say things by mistake and sometimes when you say things you'll want to correct them very quickly. I wanted to come here and say to Gillian that I was sorry, I had made a mistake, but also to say I understood the concerns she was bringing to me and I had simply misunderstood some of the words she had used.'"
Watch, AFTER THE JUMP…