An inquest has revealed sad details about the final months and hours of Alexander McQueen's life: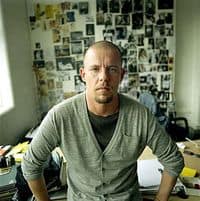 "His inquest at Westminster coroner's court on Wednesday heard he had twice tried to commit suicide last year, in a 'cry for help', that were brought about by a history of depression, anxiety attacks, insomnia and 'substance misuse'. His success in fashion had left him increasingly pressured as he felt his work was the only area of his life where he achieved, the court heard.
The designer, born Lee Alexander McQueen, led a lonely private life after abandoning his friends who he felt were taking advantage of his celebrity. He also shunned the glitzy fashion world
The court heard McQueen, the son of an east London cab driver, had started his career on Saville Row before 'climbing to the pinnacle of his profession'.
He died the day before his mother's funeral in February after her death left him with 'with nothing to live for', the inquest heard.
He hanged himself with his 'favourite brown belt' after taking a cocktail of cocaine, sleeping pills and tranquillisers."
And a final note: "Scrawled on the back of a book called The Descent of Man by London artist, Wolfe von Lenkiewicz, he wrote: 'Look after my dogs. Sorry, I love you, Lee. P.S. Bury me at the church.'"