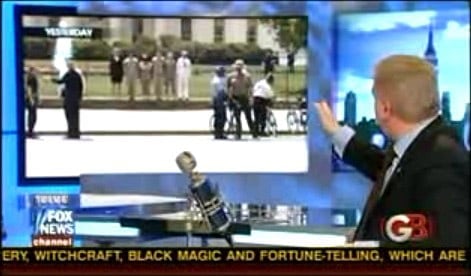 Glenn Beck is using the example of the GetEQUAL military White House protest to urge his Tea Party faithful to do the same thing, and bring their video cameras so the news programs will run an incident like this over and over again.
Beck also uses a more dangerous example of "when Hinckley shot Reagan" and the networks ran it "over and over" again.
Beck also used the incident to link oppression of gays to the oppression of Tea Party activists: "This is how the White House is treating gays. They closed down the park! Gay activists handcuff themselves to the White House. Never in my life have I seen this. The government closes the park to get the press to stop filming it!"
He tells his teabaggers: "When you see that you can walk with the same confidence. When America sees the truth about how vicious these people are. SEIU delivering beatdowns. As long as you are standing there with peace and love in your heart it is only a matter of time before these people are exposed."
Media Matters notes: "In fact, Beck only sprang to the defense of these brave men and women because he saw an opening to attack the President and his ominous 'government' while simultaneously painting a menacing picture for his robotic followers — Obama will come after you too!It should be noted that the White House didn't keep reporters from covering the truly newsworthy protest — the blame reportedly rests with the U.S. Park Police."
Watch, AFTER THE JUMP…