Earlier it was reported that the two activists from Zimbabwe's only gay rights group GALZ, who were arrested over the weekend, were arrested in a sting in which police were looking for pornography and drugs.
Now, it appears, the real reason has emerged: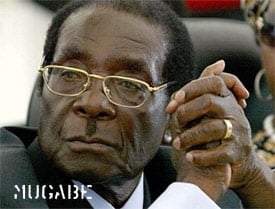 "Zimbabwe police have arrested two members of a gay organisation after they posted a letter in their office from former San Francisco Mayor Willie Lewis Brown criticising the Zimbabwean president's opposition to homosexuality, their lawyer said on Monday…Attorney David Hofisi said the two will remain in jail until Wednesday — Tuesday is a public holiday in Zimbabwe — after police seized the letter from the organisation's suburban offices.
Police said the letter, mounted on an office wall, 'undermined the authority of the president,' an offence under sweeping security laws carrying a penalty of a fine or brief imprisonment…The United States mayor's letter also commended the local organisation as a champion of gay rights. Brown did not respond to requests for comment left at his San Francisco office.
President Robert Mugabe has described same-sex partners as 'lower than dogs and pigs' but arrests of homosexuals are rare in Zimbabwe."