ACtivist group GetEQUAL will be holding an emergency picket on Capitol Hill tomorrow over the Employment Non-Discrimination Act.
The organizers write: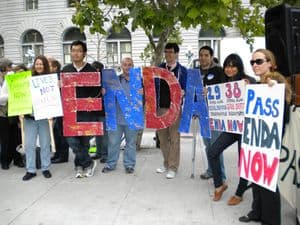 "Legislative action on the bill has already fallen victim to numerous postponements surrounded by a lot of rhetoric, without any real action. The legislation has yet to be scheduled for a floor vote in either the House or the Senate and according to House Majority Leader Steny Hoyer's legislative calendar, less than 45 full voting days remain before Congress adjourns for the mid-term elections nearly six months from now in November. Thursday's GetEQUAL protest, to be held at the corner of Independence Ave. SE and 1st St SE (by the Library of Congress), is the latest in a series of actions the grassroots LGBT organization has taken this week to push for a vote to be scheduled now on ENDA."
The picket is scheduled for 12 noon – 2 pm. Facebook info HERE.
(image from yesterday's protest in SF, by Rex Wockner)