Illinois Democratic candidate for U.S. Senate Alexi Giannoulias will announce the launch of a petition drive urging immediate repeal of "Don't Ask, Don't Tell" at a press conference this morning at the Center on Halsted in Chicago. Among the community leaders appearing with him will be openly gay Illinois Rep. Deb Mell, who last week announced her engagement to her partner on the House floor, and two service members, Marquell Smith and Lee Reinhart, discharged under "Don't Ask, Don't Tell".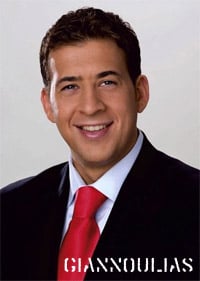 The petition website can be found (and signed) at EqualityCantWait.com.
Giannoulias will also announce an 'LGBT for Alexi' steering committee.
Said Giannoulias: "Ten years from now, we will look back in amazement that we denied full and equal rights for LGBT Americans. I look at the issue of LGBT equality as one of basic fairness. I was raised to believe that all people are equal, and that we should judge one another by our actions and ideas – not by our race, our religion or our sexual orientation."
Said former Marine Smith in a press release advanced to Towleroad: "I appreciate Alexi's leadership and willingness to be so vocal during this campaign on the issue of equality. Though we have made progress, real change will require sending leaders like Alexi Giannoulias who have the the determination and courage to finish this fight in Washington. I have one question for Congressman Kirk: Why must I hide my identity, why must I be made to feel shame about who I am, in order to serve my country? Congressman Kirk's position on 'Don't Ask, Don't Tell' is unconscionable."
You may remember that Giannoulias' Republican opponent, Mark Kirk, who supports DADT and opposes marriage equality and the repeal of DOMA, was the target of a radio campaign by his primary opponent Andy Martin, who alleged that Kirk is gay. Kirk said he's not gay.
Earlier this year, Towleroad's Corey Johnson interviewed Giannoulias during a visit to NYC. Watch the interview again, AFTER THE JUMP…