Beginning on June 3, the New York City Clerk will begin offering "marriage-like ceremonies" to domestic partners who register there, the New York Daily News reports: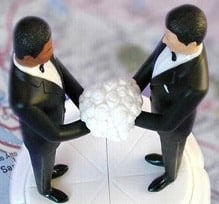 "After 17 years of registering domestic partners, the city will soon offer marriage-like ceremonies when they run off to City Hall to get hitched, just like straight couples have had for generations.
'We thought it was a good idea,' City Clerk Michael McSweeney said of providing a more memorable ceremony for domestic partners…They will be offered at the city clerk's five borough offices – including the recently revamped $12 million Manhattan marriage office at 141 Worth St., just north of City Hall.
The city began registering domestic partners, most of whom are not gay, at the city clerk's offices in 1993. Up until now, the nearly 50,000 domestic partners who signed up received nothing more than a piece of paper.
'Sounds like a small step in the right direction,' said Joseph Hagelmann, president of the Stonewall Democratic Club in Manhattan. 'But we're not going to be happy until we have full marriage equality.'"