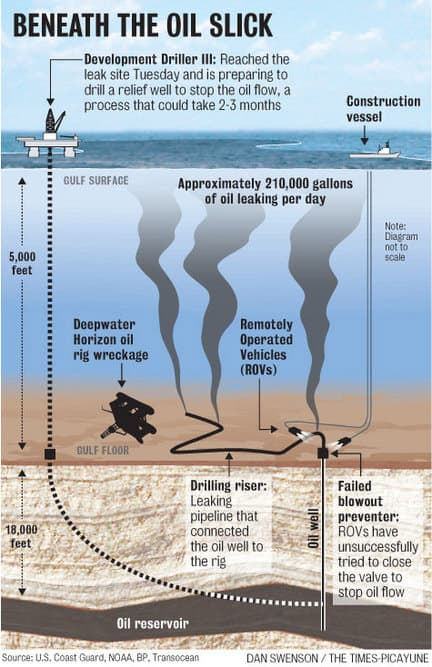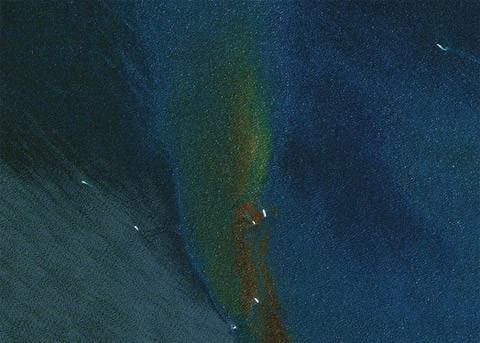 Here's another satellite photo showing the oil slick in the Gulf of Mexico, which continues to gush thousands of gallons of oils a day. Those white dots are boats.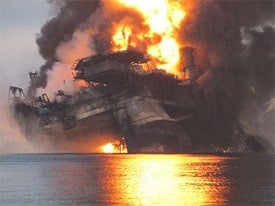 Americablog has some incredible shots of the oil platform exploding and sinking.
Scrutiny is being placed on the oil-drilling pressure known as cementing, which reportedly led to the blowout. The cementing operation was being performed by Halliburton, which as you recall is the company formerly chaired by Dick Cheney, and from which Cheney derived most of his personal fortune.
The WSJ: "Regulators have previously identified problems in the cementing process as a leading cause of well blowouts, in which oil and natural gas surge out of a well with explosive force. When cement develops cracks or doesn't set properly, oil and gas can escape, ultimately flowing out of control. The gas is highly combustible and prone to ignite, as it appears to have done aboard the Deepwater Horizon, which was leased by BP PLC, the British oil giant.Concerns about the cementing process—and about whether rigs have enough safeguards to prevent blowouts—raise questions about whether the industry can safely drill in deep water and whether regulators are up to the task of monitoring them.The scrutiny on cementing will focus attention on Halliburton Co., the oilfield-services firm that was handling the cementing process on the rig, which burned and sank last week. The disaster, which killed 11, has left a gusher of oil streaming into the Gulf from a mile under the surface."
BP is attempting a risky plan today to seal the valve:
"Mr. Fryar and Charlie Holt, BP's drilling operations manager for the gulf, described an audacious plan to confront the blowout preventer problem. In this approach, they would seal the well by cutting the riser at the wellhead, sliding a huge piece of equipment called the riser package out of the way and bolting a second blowout preventer atop the first one.The risk in attempting such a maneuver — which would be performed, as all the undersea work has been, by robotic submersibles tethered to support ships 5,000 feet above — is that the pressure of the oil rising from the well could be overwhelming, and the well could gush oil at a far higher rate. Mr. Fryar said a pressure gauge would be installed soon to determine if it was safe to attempt the operation."
Obama said over the weekend that BP is responsible for the leak, and will be footing the bill.
A helpful chart illustrating the efforts to plug the valve below the oil slick, AFTER THE JUMP…