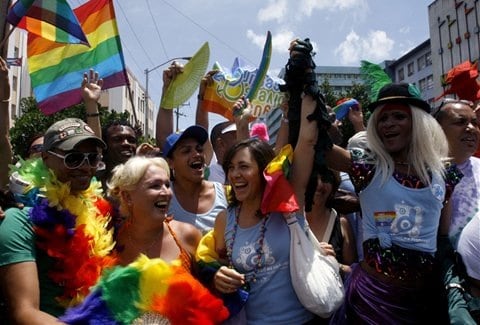 The march took place as part of this weekend's International Day Against Homophobia. Hundreds of people took part in what is reported to be a violent-free parade, unlike what happened in Belarus earlier today.
The AP reports:
Hundreds of gay and lesbian activists, some dressed in drag and
others sporting multicolored flags representing sexual diversity,
marched and danced through the streets of Havana on Saturday along with
the daughter of Cuban President Raul Castro as part of a celebration
aimed at eliminating homophobia around the world.

Some of the
marchers played drums and others walked on stilts as they made their
way down a wide avenue in the capital's hip Vedado neighborhood, where
they have held a series of debates and workshops ahead of the May 17
celebration of the International Day Against Homophobia.
Said President Castro's daughter and longtime-time LGBT rights advocate Mariela Castro, who is in the center of the photo above: "We have made progress, but we need to make more progress."
Related, The Havana Times has published an interview with a young Cuban lesbian about living as an openly gay person in that country. When asked if gay men "suffer more police persecution than gay women," she responded:
"We all are socially pressured, and not only through police harassment but also from social rejection,  gestures or expressions, and when we don't receive proper treatment in some place because someone is a "too mannish" or "too loose," and consequently they're discriminated against.  I don't know if lesbians or if gays are the more rejected.  I think lesbians are harassed more; men tend to give looser reins to their ghoulish instincts without realizing that it doesn't please us.  On the other hand, they humiliate us by subjecting us to their obscenities, often in public."