CNN makes note of Westboro Baptist Church leader Fred Phelps past as a "brilliant" civil rights lawyer: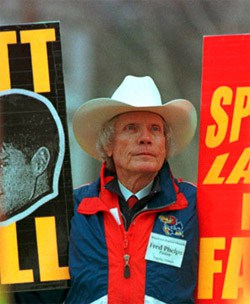 "By the time Phelps moved to Topeka in 1954, it had become the launching ground for the modern civil rights movement. That was the year the U.S. Supreme Court banned segregation in public schools with its historic Brown vs. Topeka Board of Education decision.
Jack Alexander, a Topeka native and civil rights activist, says the Brown decision opened the door for discrimination suits. Phelps would take cases in the 1960s that other lawyers, black and white, wouldn't touch, he says.
'Back in that era, most black attorneys were busy trying to make a living,' says Alexander, who attended Topeka's high school when the Brown case was filed and went on to become the first black person elected to Topeka's water commission.
'They couldn't take those cases on the chance they wouldn't get paid. But Fred was taking those cases.'
Phelps was so successful that he became the first lawyer blacks would call when they thought they were being discriminated against, says the NAACP's Scott.
'Most blacks — that's who they went to,' Scott says. 'I don't know if he was cheaper or if he had that stick-to-it-ness, but Fred didn't lose many back then.'
Douglas, the Topeka civil rights activist and former fire chief, says Phelps was such a 'brilliant attorney' that he made enemies.
'He made a fortune on all those cases,' Douglas says. 'All the businesses hated him because he was so successful. I think if they discriminated against Martians, he would have done those cases. He could make money."
Shirley Phelps-Roper explained to the network her belief that there's no contradiction between Phelps civil rights work and his anti-gay crusading, and it hinges on the church's belief that being gay is somehow a choice:
"That's because there's a distinct difference between gay people and black people, she says.
'You're born black. It's something you can't change even if you're Michael Jackson,' she says. 'God never said it was an abomination to be black.'"
Most Hated, Anti-Gay Preacher Once Fought for Civil Rights [cnn]