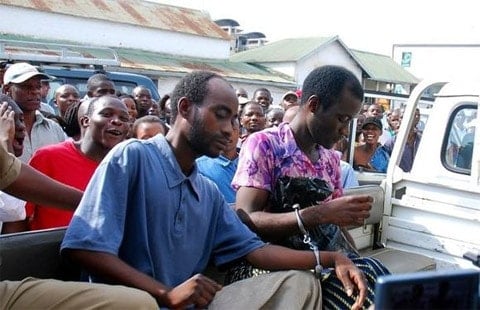 A judge has found Steven Monjeza and Tiwonge Chimbalanga, jailed in Malawi since late December after they had a public engagement ceremony, guilty of "gross indecency" and "unnatural acts". Since that time, the couple has been imprisoned except for brief, occasional visits to a courtroom during which they were ridiculed and mocked by homophobic mobs.
Their sentence is even more heartbreaking: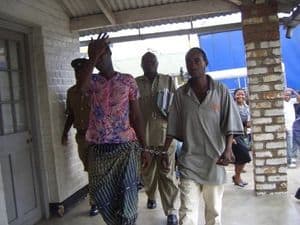 "Blantyre chief resident magistrate Nyakwawa Usiwa issued the ruling yesterday. The couple are facing up to 14 years in prison with hard labour after becoming the first gay couple in Malawi to publicly commit themselves to each other…Angry residents and relatives from Machinjiri township, on the outskirts of Blantyre, say they will not allow them to return home if they are set free.
A retired economist, Thindwa, added: "We are giving them moral support by bringing them food, money and clothes to prison."
The rule comes as a blow to gay rights movements across the continent, sparking fears that the ruling could be viewed as a test case and set an unwelcome precedent.
Peter Tatchell, the veteran British gay rights campaigner, told the Guardian last week he received a defiant message from Chimbalanga that said: 'I love Steven so much. If people or the world cannot give me the chance and freedom to continue living with him as my lover, then I am better off to die here in prison. Freedom without him is useless and meaningless.'
Monjeza – who is described as thin and weak with jaundiced eyes – told him: 'We have come a long way and even if our relatives are not happy, I will never stop loving Tiwonge.'"
Sentencing is set for Thursday.