Moscow Mayor Yuri Luzhkov's remains consistent in his homophobia: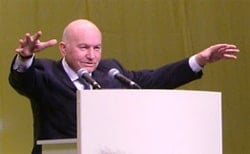 "Not unexpectedly, the homophobic Mayor of Moscow, Yury Luzhkov, has banned the march planned in Russian capital as part of Moscow Pride on May 29.
It is the fifth successive year that the Mayor, who infamously described Gay Pride parades a 'satanic happenings', has invoked a ban.
'As soon as we receive the authorities' refusal in writing, we will appeal it in the Tver District Court,' chief organiser Nikolai Alekseev said this afternoon.
Alekseev is also saying that Moscow authorities have blocked GayRussia.Ru, the website of Pride organizers, in an attempt to stifle news of the ban.
Journalist Rex Wockner forwarded the following bulletin sent from Alekseev: "GayRussia.Ru server is blocked by the provider Caravan (www.caravan.ru) under pressure from Moscow Government at the moment when many news sites, both in Russia and abroad are giving direct links to the site concerning the ban of the fifth Moscow Pride."