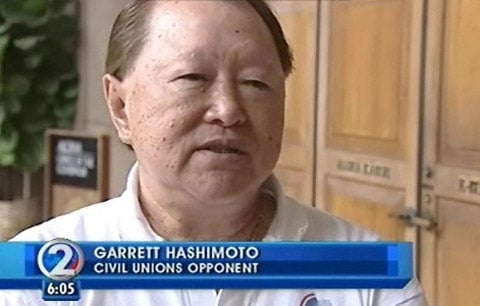 Hawaii Governor Linda Lingle met with foes of the state's civil union bill as she continues to consider whether to sign or veto the measure, KHON reports: 
"About 30 opponents of the measure attended a two-hour long private session in the governor's office.
'House Bill 444 is not about civil rights but about creating special rights,' said civil unions opponent Garrett Hashimoto.
Religious leaders and several youth were among the group.
'For example, what comes next, same sex marriage? what comes next, homosexuality being taught in the schools?,' asked Ryan Mc Donald, civil union opponent.
Recently the governor shared the factors she'll be considering as she weighs whether to veto, sign or let the measure become law without her signature.
'How the economy, the fiscal situation of the government would be affected, what programs would we now have to expand to cover a lot more people for instance so what would the economic impact be?,' asked Governor Linda Lingle."
Lingle must indicate that she's going to veto the bill by June 21.