Jason Akermanis the Western Bulldogs footballer who has made headlines down under after writing a column suggesting that gay players stay in the closet because they're not welcome, is receiving some feedback in the form of eggs: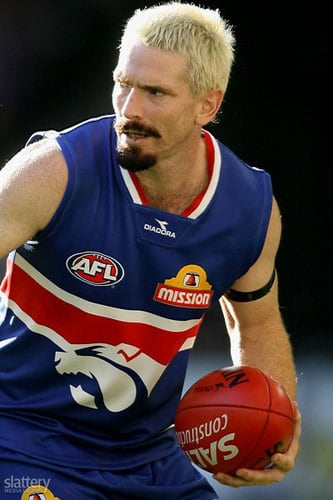 "He said it was terrifying to have missiles thrown in the darkness at his house and car.
'I'm not happy and I didn't get a wink of sleep after it happened,' Akermanis said.
'It was pretty terrifying, to be honest, to hear all that noise coming because it's such a quiet neighbourhood we live in.'
It's the second time in a month the Western Bulldogs footballer has been egged.
Akermanis, whose comments in the Herald Sun on homosexual footballers sparked a controversy last week, said about 20 eggs had been thrown. He said his comments could have provoked the latest attack, but he was not sure.
Neighbours saw six males running from the scene.
Akermanis spent about an hour after the attack hosing the smashed eggs from his house and car."
Akermanis has reportedly been admonished by players and coaches at the Western Bulldogs. He also apparently has a ghost writer who writes for him, and he insists that certain parts of his column weren't approved:
"[James] Fantasia, who proofreads Akermanis's newspaper columns – as well as weekly contributions by Robert Murphy in The Age and Barry Hall in The Sydney Morning Herald – said there had been several unapproved additions to the draft of Akermanis's column he checked last week.
Akermanis's ghost writer, Jon Anderson, has denied that the column was 'doctored in any shape or form' and said that 'any changes to the original that Akermanis first wrote … were sent to him for his approval.'
Akermanis, however, is adamant he did not write the sentence that asserted an AFL footballer who revealed himself as gay 'could break the fabric of a club'.
'Categorically, 100 per cent, that was not in the article that he had written and sent to us for consideration,' Fantasia said yesterday."