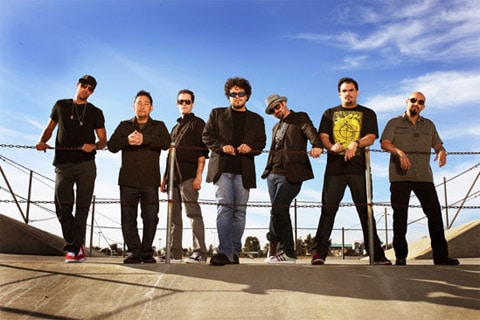 On Ozomatli's fifth studio album, Fire Away, the group published a track they had been working on since the passage of Prop 8, "Gay Vatos in Love". "Vato" is slang for young, tough Mexican youth, and the track deals same-sex relationships as well as anti-gay violence (it mentions slain transgender Coloradan Angie Zapata).
"With it, the iconic fusion band whose sound is seen as representative of multicultural Los Angeles is arguably taking one of its most politically daring steps this year…With its classic sound but sharply gay-friendly message, 'Gay Vatos in Love' breaks into uncharted territory that borders on the music industry, politics, sexuality and Latino pop culture. 'If the world can't understand,' the song says. 'Stand by your man.'"
Said lead singer Raul Pacheco: We felt that [gay rights] is just another in a long line of underdogs, so I think we connected to it on that level. It was totally natural for us to take that stance."
Listen to the song, AFTER THE JUMP…