Rep. Patrick Murphy, the chief sponsor of the House bill to repeal "Don't Ask, Don't Tell", says he and other lawmakers were "blindsided" by Defense Sec'y Robert Gates' letter on Friday, and vows to fight on for repeal this year.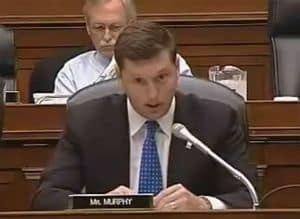 Says Murphy to The Advocate: 
"After my three years in Washington, I think when folks tell you to walk away, that's usually a sign that you're getting close. So we have to keep working, people need to call their members of Congress, their Senators. Obviously, the letter was a setback, but I know we're on the right side of history here and we're going to keep fighting till we get this done this year…I said from the get-go that just because change is hard it doesn't mean it can't happen. We have a bi-partisan bill to repeal 'don't ask, don't tell' in the House of Representatives. We have Republican support, we have Colin Powell now on board, we even have Dick Cheney calling for repeal. We need to keep fighting."
Murphy says he and Senator Carl Levin are "putting their heads together" to figure out the best way to move forward, and that he hasn't talked to anybody who thinks that Friday's letter means DADT repeal is off the table for this year.
Murphy also says a "delayed implementation" approach is not off the table either.
More at The Advocate…