Last week, Jason Pfeiffer, the former employee of Michael Jackson's dermatologist Arnie Klein, renewed claims that he was Michael Jackson's lover. Klein backed him up, saying "When you see two people looking at each other you know what's happening. I was just very happy for both of them."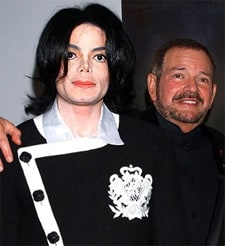 Now, Jackson's dad Joe, and a bunch of fans are pissed at Klein. 
Joe Jackson tells TMZ that his son wasn't gay:
"It's not true. Michael was not gay. He has no respect for Michael … to say things about him when he's gone is shameful…He's a doctor and knows better than to break his vows against a patient."
And Klein is receiving death threats for supporting Pfeiffer: "While his motivation for supporting Pfeiffer's claims was to silence rumors of Jackson's fondness for young children, Klein has received horrible death threats from some of Jackson's most devoted fans ever since he backed Pfeiffer's allegations.
Due to the death threats that he has received, he has reached out to the FBI in order to secure the services of bodyguards."