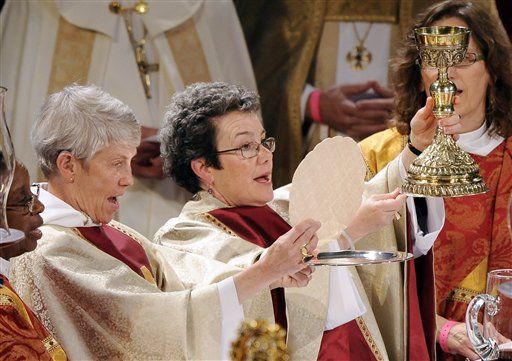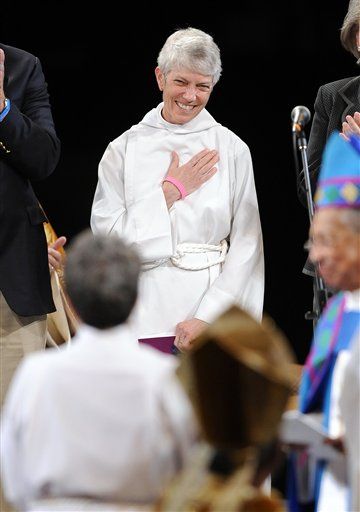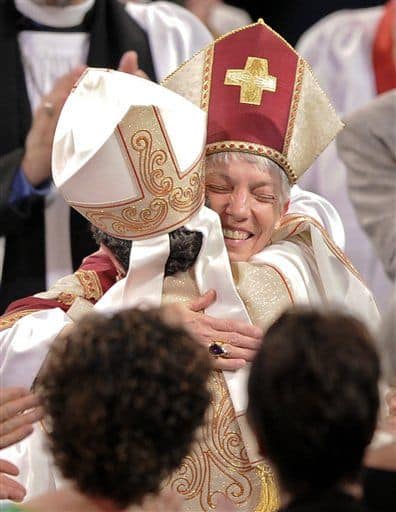 Yesterday, The Episcopal Church consecrated Mary Glasspool making her the first openly gay woman to become a bishop in the Church. Today we have photos of the service where Glaspool was caught beaming with joy. I've posted a couple more AFTER THE JUMP.
Video of  the entire service will be available on the Web site of Episcopal Diocese of Los Angeles on Monday.
According to ABC News, two protesters did manage to disrupt theceremony: "Just before the ceremony began, a man stood, shouted aboutthe need to repent and held up a sign that read "Do not be deceived,homosexuals will not inherit the kingdom of God." After he was escortedout, a young boy in the same section rose holding a Bible and shoutedsimilar slogans. Security guards also led him out."
The Archbishop of Canterbury Rowan Williams has previously spoken out against Glasspool's ordination claiming that it "raises very serious questions not just for the Episcopal Church and its place in the Anglican Communion, but for the Communion as a whole."
A group called Reform Ireland (not the Church of Ireland as had earlier been noted) has also issued a statement criticizing the ordination: "We wish to express sorrow that Mary Glasspool, a person who is living in a same-sex relationship, is to be consecrated," the Church of Ireland said in a statement. "The elevation to senior church leadership of a person whose lifestyle is contrary to the will of God revealed in scripture is both wrong and disappointing."