Glee's Jane Lynch has weighed in today on Ramin Setoodeh's contentious Newsweek article.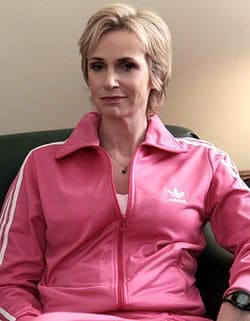 She tells Entertainment Weekly: "The thing is, actors are actors: You can't play gay anymore than you can play somebody who's Catholic," says Lynch. "Aaron Sorkin wrote a wonderful thing in the Huffington Post. I don't think you have to slap somebody down for making an opinion that you don't agree with. But I do think what Kristin and Ryan did was so important, and I'm glad that they said it. It doesn't mean, 'Off with [Setoodeh's] head.' But I'm very glad, and I thought it was very heroic what the two of them did."
As Andy wrote last week, Setoodeh has accepted an offer from Glee creator Ryan Murphy to discuss the article in person.
Sorkin's piece, where he writes that he doesn't think Setoodeh was being homophobic, "Just wrong," is here.
Also, the Screen Actors Guild also issued a statement written by Jason Stuart, it's LGBT Actors Committee chair. It reads in part:  "Unfortunately, harmful attitudes like those of Setoodeh are used to pressure actors to stay in the closet. Our work is clearly not done and we will continue to fight to end fear within the acting community that being open about who you are means the end of your career. I'm an actor; it's not who I am but what I can play that counts."