The Wonk Room reports that the Senate Armed Services Committee vote on "Don't Ask, Don't Tell", which is reportedly taking place after lunch today, will be an open session at John McCain's request: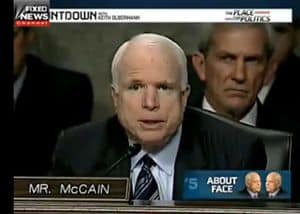 "Yesterday, Sen. John McCain (R-AZ) — who at one point said that he would re-evaluate his support for the military's Don't Ask, Don't Tell policy if military leaders like Colin Powell called for its repeal — told Roll Call that he would 'without a doubt' support a filibuster of the entire defense authorization bill if Democrats successfully attached an amendment repealing the ban on open gay and lesbian military service. 'I'll do everything in my power,' McCain said. 'I'm going to do everything I can to support the men and women of the military and to fight what is clearly a political agenda.'
Well now, sources close to the Senate Armed Services Committee are telling me that McCain has asked Senate Armed Services Committee Chairman Carl Levin (D-MI) that the vote on DADT repeal be in 'open session.' Levin agreed and has said that the vote will occur sometime after lunch.
While some may interpret this as a 'nod to transparency', I expect McCain will use the time to grand stand on the issue and burnish his conservative credentials in light of his tough re-election race against J.D. Hayworth."
Remember, McCain once sounded almost sensible on DADT.