Two gay men were attacked early Saturday morning after leaving a gay bar in Dallas – with baseball bats. According to the victims, who are simply being referred to as Kyle and Alex in some reports, the assailants used anti-gay slurs during the attack.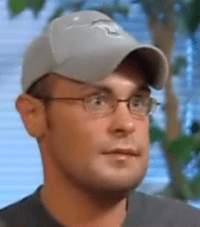 WFAA-TV in Dallas reports:
"I was sending a text and got hit in the head with something really hard," said Kyle, 28. "Even if I had something to protect myself, I wouldn't be able to use it… I didn't even know they were there."

The men pushed both Kyle and Alex to the ground and began kicking and hitting them with the bats.

Kyle was knocked out, but Alex said the men used homophobic slurs, and didn't ask for money before lashing out.

"They pushed us to the ground and they had baseball bats and I heard them say, 'F*****s, give us your f*****g wallets,'" Alex recalled. "I thought I was going to die; I thought they were going to try and kill us."

The four suspects — described only as Latin males wearing white tank tops — fled with the wallets and cell phones of Kyle and Alex.

Dallas police say they consider this attack only a robbery and not a hate crime. Alex disagrees. "I still feel like that was why we were targeted in the first place, because we are gay," he said. "It was like it was funny to them."
John Wright of the Dallas Voice contacted the Dallas Police Department to inquire why the incident wasn't categorized as a hate crime. He received a reply about the assault from Senior Cpl. Gerardo Monreal: "Detectives are the only officers that can reclassify the offense. The motive was to take money."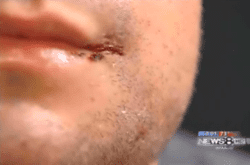 Wright's reaction: "Based on Monreal's statement to me, I'm guessing that officers who responded to the incident failed to classify it as an anti-gay hate crime, and it would be up to detectives to reclassify it. Under the federal Hate Crimes Statistics Act, local law enforcement is required to report to the FBI crimes that are motivated, "IN WHOLE OR IN PART," by anti-gay bias. And one of the main criteria for determining bias is "oral comments" made by suspects during a crime."
Watch the WFAA-TV segment on the attack, AFTER THE JUMP.