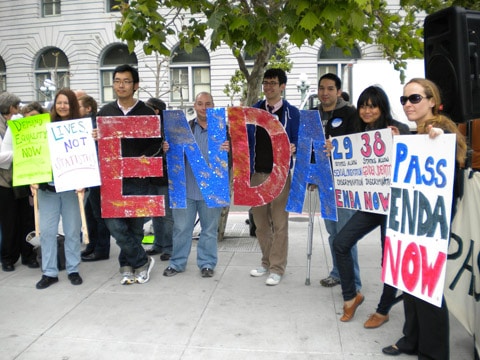 Rex Wockner sends us these photos of a rally held late yesterday urging passage of the Employment Non-Discrimination Act at the federal building in San Francisco.
Pictured below are National Center for Lesbian Rights' Kate Kendell and GetEQUAL's Kip Williams.
GetEQUAL also posted a message online to send to Pelosi urging her to bring ENDA to a vote immediately. You can sign it here. Pelosi on Monday held a conference call to discuss the status of ENDA and "Don't Ask, Don't Tell". Read about it here.
Pictured below, Masen Davis, the executive director of the Transgender Law Center.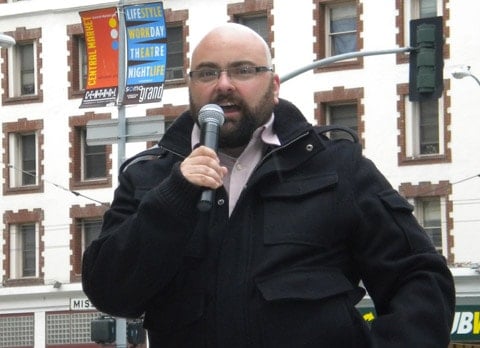 In related ENDA news, I mentioned yesterday a press conference that was going to be held at the National Press Club in Washington, D.C. ENDA Now has some excellent coverage of it here.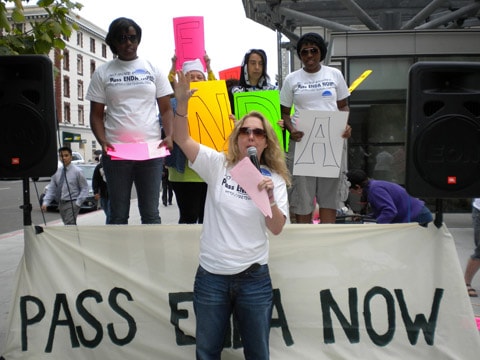 Robin McGehee of GetEQUAL, above. Rex's video from the rally, AFTER THE JUMP…